SureCam IMPACT Trucking Scholarship Program
Program details and application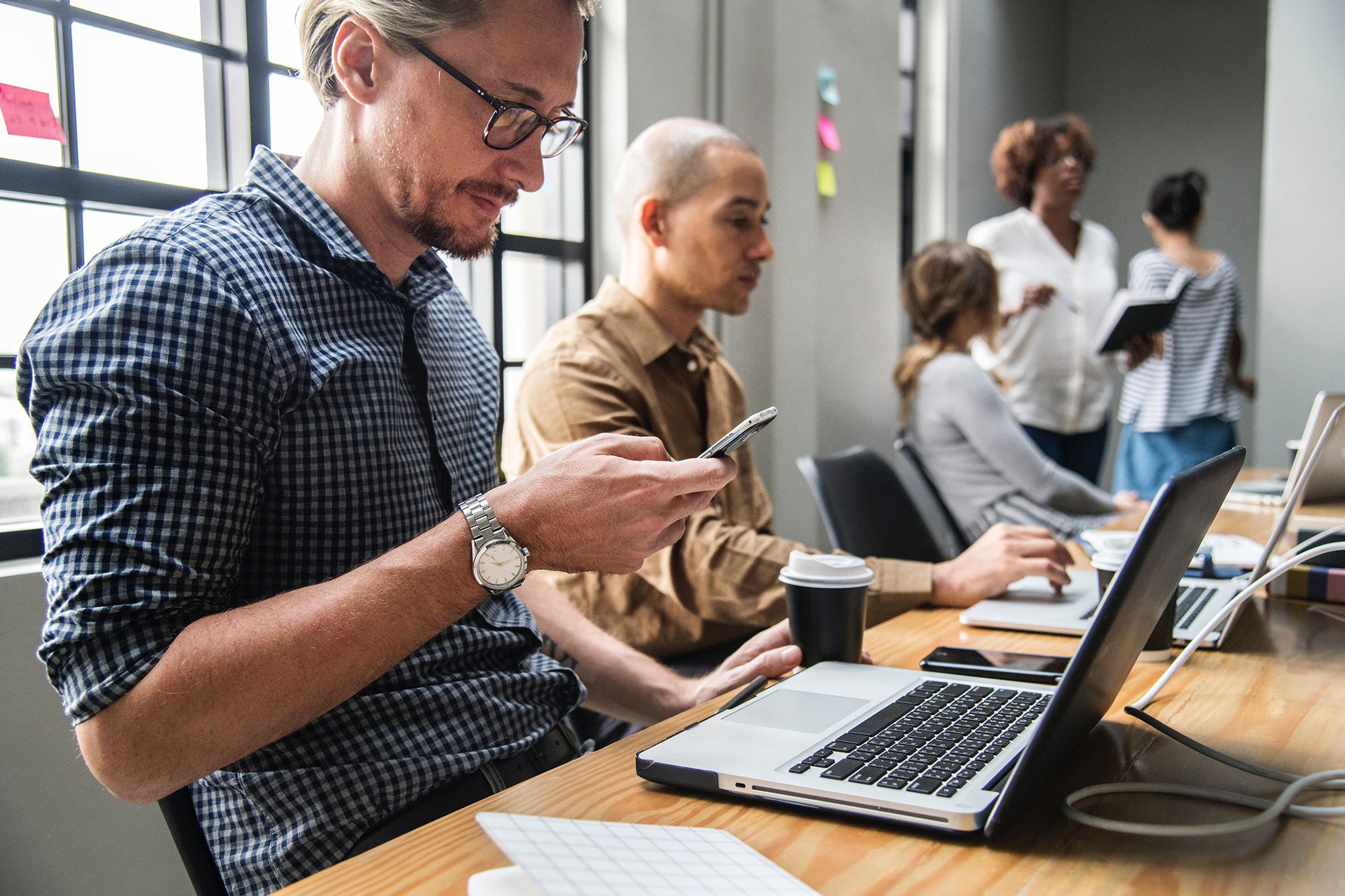 Applications for the 2023 SureCam IMPACT Trucking Scholarship Program are available now.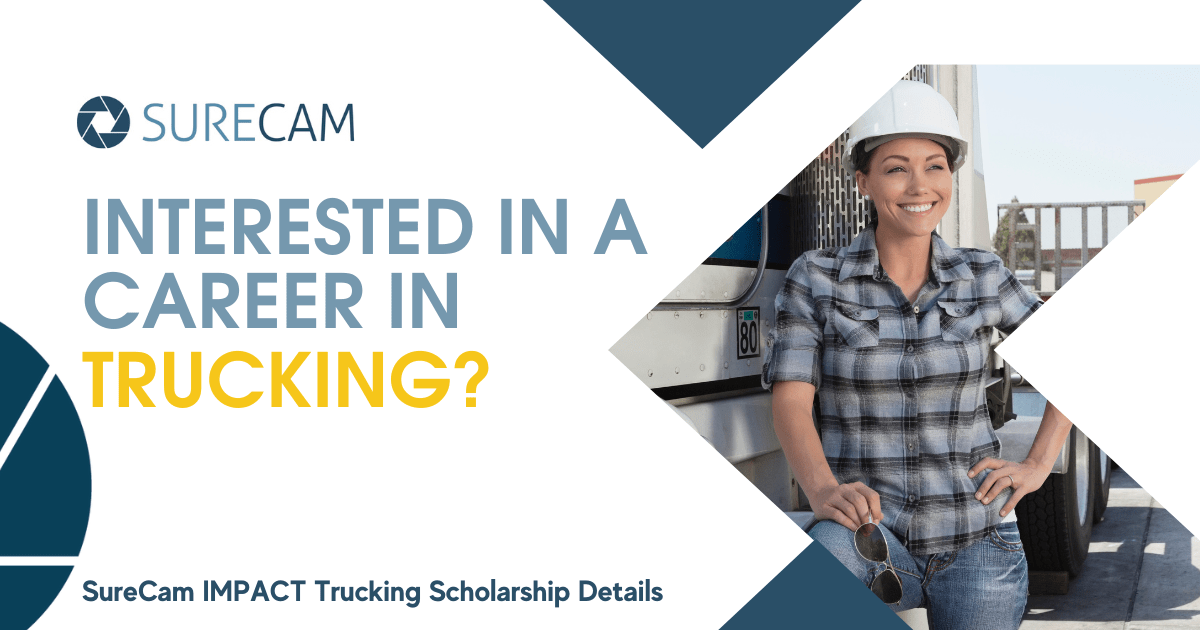 About the SureCam impact trucking scholarship
SureCam is pleased to award a scholarship of $1,000 to students each month towards tuition costs of attending a truck driving training program. These scholarships are recognition of a student's overall achievements and are available to students that are permanent residents in the United States, Puerto Rico, Canada, and the United Kingdom enrolled in a CDL or HGV driver training program.
This scholarship is open to EVERYONE, including but not limited to women and people from underrepresented communities looking to establish a career the transportation industry.
To be selected, students must be currently enrolled in a CDL or HGV driver training program.
How it works
Step 1: General Application
Complete the IMPACT Scholarship general application online. The application requires information about your field of study and a short video essay.
Step 2: Additional Materials
Required materials include a letter of acceptance from a relevant CDL or HGV driver training educational institution if selected as a recipient to verify participation in the program.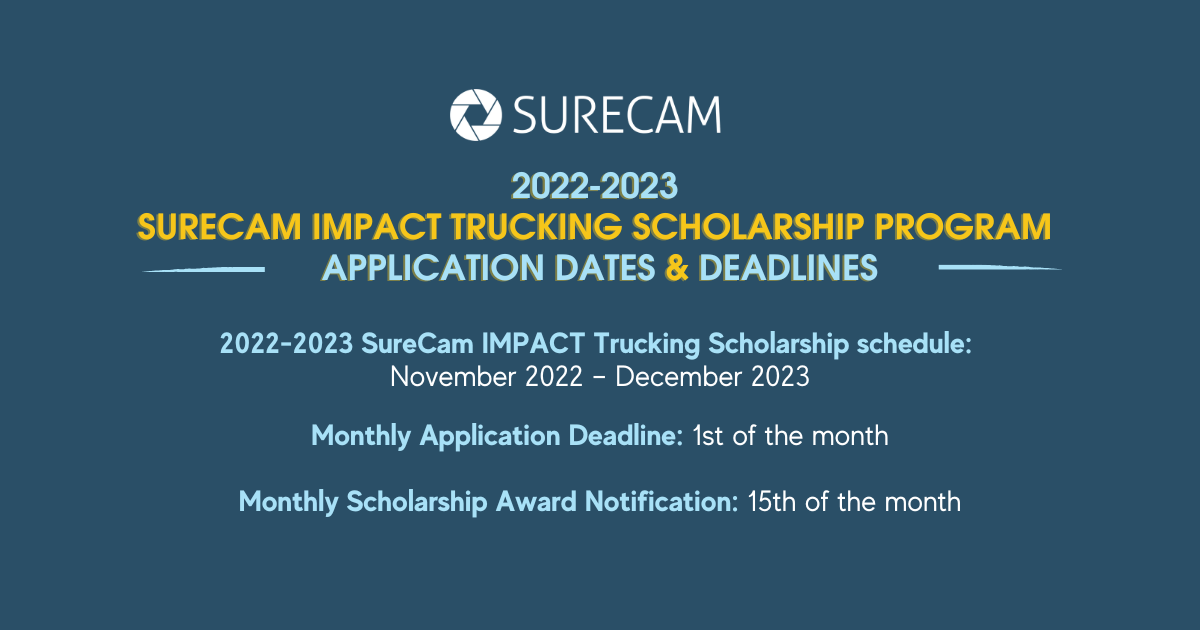 SureCam Impact Trucking Scholarship Fund FAQs
How much is each SureCam IMPACT Trucking Scholarship award? 
The scholarship awards $1,000 to be applied toward applicable school tuition and fees.  
Who is eligible to apply for the SureCam IMPACT Trucking Scholarship?
To be eligible for the SureCam IMPACT Trucking Scholarship fund, applicants enrolled in an accredited professional truck driver training program in pursuit of a CDL or HGV license. Applicants must currently reside in the United States, Puerto Rico, Canada, or the United Kingdom.   
How many scholarships will SureCam award each month? 
SureCam will award one $1,000 scholarship, monthly. 
When is the application deadline? 
Applications must be submitted to SureCam no later than the 1st of every month between November 2022 and December 2023 to be considered. 
Who can apply? 
Anyone currently enrolled in a CDL or HGV driver training program. 
What does SureCam consider when reviewing applications? 
Selection criteria may include, but is not limited to, the applicant's leadership experience, extracurricular involvement, community service, employment history, and financial need. 
Waiting to hear back? 
Award notifications are sent on the 15th of the month beginning December 15th, 2022 through December 15th, 2023. 
How long will an application be considered? 
Each application will be considered for three scholarship award cycles (three months). For example, and application submitted November 1st, 2022 will be considered for the awards in December 2022, January 2023 and February 2023. No further action is needed by the scholarship candidate following application submission. 
How often can a SureCam IMPACT Trucking Scholarship application be submitted? 
Scholarship candidates may apply once per year. Scholarship recipients are ineligible to win the SureCam Impact Trucking Scholarship more than once. Example: If a candidate submits an application on January 1st, 2023 and does not receive the scholarship in February, March or April 2023, then she/he/they are eligible to apply again anytime on or after January 1st, 2024. 
About SureCam
We believe every fleet, from five vehicles to 5,000, should have access to the same best-in-class technology that provides real-time visibility into what's happening on the road — at an affordable price. SureCam works with a large number of customers in transportation, distribution and logistics industries. We are proud to support hardworking people in their pursuit of a rewarding and essential career in truck driving.
At SureCam, we offer a variety of connected commerical truck fleet dash cam configurations to meet your fleet management needs.
Road-facing + In-cab Dual Dash Cams