Protect Drivers And Meet Compliance Standards With SureCam 360+
Improve your fleet safety, protect members of the public, and boost field team efficiency with SureCam's highly configurable multi-channel dashcam system. Gain 360° visibility and instant alerts giving you the full context behind what happens both inside and outside of your company vehicles. Work with SureCam to build a solution to help meet DVS, FORS, and CLOCS compliance standards.
Configure a solution with up to 5 dashcam views. (More views available upon request!)
GPS-enabled for real-time location tracking and trip history reporting.
Remote access to event-triggered videos, self-service historical video request, and SureCam LiveCheck.
Standard 2TB SSD for up to a month of drive-time video storage.
Optional in-cab monitor for improved driver visibility and manoeuvring assistance .
Upgrade your coverage with our optional 3-year warranty for ultimate peace of mind.
Optional AI DVS Safe System Package with advanced sensors for driver alerts and a specialized left turn audible warning alarm.
How Multicam Dashcam Systems Work
Cloud dash cam technology is the gold standard for protecting your business from false accident claims and identifying and improving risky driving behaviours.

G-Force or telematics triggered event occurs within your fleet

Video and data is uploaded via cellular connection

Receive instant notification of incident via email or in the SureCam platform
Through the use of a cellular connection, you can be instantly notified and watch high-quality video within seconds of an incident occurring. With the SureCam 360+ multi-camera system with GPS tracking, you can get remote 360° visibility into road incidents through the use of multiple camera views in and around the vehicle. Supercharge incident investigations and streamline your fleet operations with connected dash cams.
Tackle The Strictest Compliance Standards with SureCam 360+
Tailored to suit your requirements
Designed to be highly configurable, work with SureCam to build a solution that helps you meet DVS, FORS and CLOCS compliance standards.
SureCam allows you to mix and match your services by outfitting HGVs with Safe System Packages and 360° multi-camera system visibility while leveraging simpler connected dashcam options for vans and cars. Streamline your fleet management by viewing your videos and GPS track and trace data across your vehicles all within the same SureCam platform.
Want to get a customised quote for your business?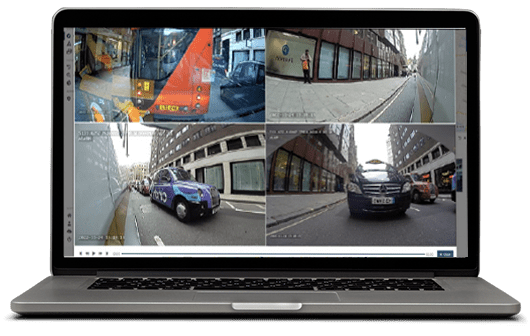 Expert In-House Installation Support
Ensure success from day one
With so many components, multi-camera systems can be cumbersome to implement and complex to install.
Lean on SureCam's expert field engineering team to coordinate the implementation and installation of the SureCam 360+ solution. SureCam offers standard installation pricing for businesses across mainland UK.

Interested in discussing implementation support in more detail?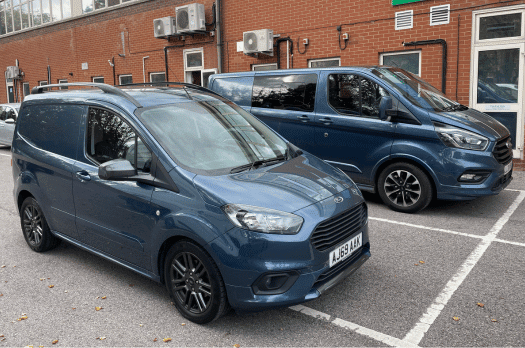 Multicam Dashcam Pricing
Built for businesses of all sizes
At SureCam, we believe both transparency and strong customer support are the building blocks to long-lasting partnerships with our customers. That is why we are providing you with some starter pricing for the multicamera solution so that you can determine whether or not a conversation with our team is right for you. With so many ways to configure the SureCam 360+ multicamera solution, it is best to schedule a call with a product specialist to lock in a customised quote.
Option 1:
Affordable Rental Model
As low as £75
per month per vehicle
Rent the multicamera technology you need without the big capital expenditure price tag.
All camera hardware, software, and data costs included in the monthly rental subscription price.
Option 2:
Upfront Purchase Model
As low as £29
per month per vehicle
Paying upfront for hardware not an issue for your business? Purchase a SureCam 360+ system for as little as £1295 and enjoy a lower monthly subscription fee.
Upfront purchase costs are dependent on the configuration of your SureCam 360+ system. Subscription price includes software and data costs.
Frequently Asked Questions
Don't see an answer to your question? Don't hesitate to get in touch. SureCam is your partner in fast and easy fleet video and tracking solutions.
Schedule a call with a SureCam solutions consultant
Want to learn more about how to leverage fleet video from SureCam to improve safety and reduce claims costs? We work with businesses of all sizes to achieve real gains in safety and efficiency.
Let's talk about your business and the problems you are looking to solve with fleet video to determine if and how SureCam can help you.
2
Dive into the SureCam platform with a Live Demo
See your use case come alive with a demo of our online platform. This is usually accomplished on your first call or can be scheduled for a later date when key members of your team are available.
If SureCam is the right fleet video solution for you, you can Order Now and begin working with a dedicated customer success representative to get your devices installed and your account configured and optimized for your needs.
Put your Trust in SureCam
From family-owned to household names, smart businesses choose SureCam.



Easy to use, affordable vehicle camera system. The system is a great tool for coaching drivers into better driving behavior. It is easy to use and very affordable for the amount of product you get.
James Pessolano
DIRECTOR OF SAFETY AND COMPLIANCE

Professionalism, Quality, Responsiveness, Value. We have loved our SureCam dash cam with GPS. The price point is great … I don't spend much time analyzing the data - the reports I need and want come automatically. I really do love this product.
Kate Smith Walton
OPERATIONS DIRECTOR

SureCam - fast, affordable and great service! Surecam is the single best safety feature that we have added to our trucks.
Matt Jacobson
SAFETY DIRECTOR