2 min read
Geotab and SureCam Launch Enhanced Video Telematics Experience
SureCam Apr 13, 2022 3:41:00 PM

The enhanced SureCam video telematics integration provides fleet managers with access to top-of-the-line capabilities to help keep drivers safe and maximize fleet efficiency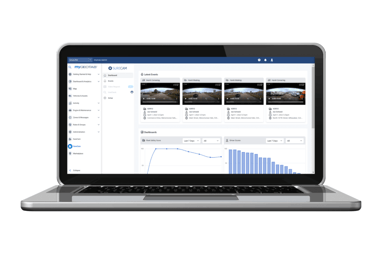 ST. LOUIS, MO – Geotab Inc., a global leader in IoT and connected transportation and SureCam, a leading provider of connected dash cameras and fleet management solutions, have partnered to bring a new generation of video and telematics capabilities to fleet operators.
Designed to meet the evolving needs of fleets, the latest version of the SureCam solution features a new method for capturing video footage from SureCam cameras using Geotab's powerful telematics device and rule-based system, resulting in a seamless display of video within the MyGeotab platform. With thousands of SureCam installations, the latest upgrade is available to new and existing users on the Geotab Marketplace, a growing portfolio of mobile apps, software Add-ins and hardware Add-ons, that helps enable customers to tailor their fleet management solution to help meet all of their connectivity needs.
"Our primary objective was bringing SureCam's ease of use directly into the MyGeotab platform. Each Geotab customer can leverage video in the ways that make sense for their business, in line with how they're already using Geotab to manage safety, efficiency, and profitability," says Max Hillman, President of SureCam. "The update to the SureCam solution is entirely centered around Geotab customers and how they leverage Geotab technology to manage their fleets."
The enhanced SureCam fleet video solution leverages Geotab's numerous data-based rules, such as improper seat belt usage and speeding. It also uses G-force triggered alerts that detect unsafe driving behaviors, like harsh driving, and automatically captures video footage which can be later reviewed on the MyGeotab platform and even alert managers to incidents when necessary. Camera configuration and customized triggers are also managed directly within MyGeotab.
In addition to event-triggered video, Geotab users can utilize the new 'Video Request' features to seamlessly preview and download additional video available on their SureCam connected dash cameras. This allows fleet operators to further investigate call-ins and other minor incidents that may not have been triggered by an event-based rule. Additionally, the 'SureCam LiveCheck' feature allows fleet operators to quickly tap into a live video feed from their dash cameras.
SureCam automatically uploads video over a cellular network, allowing fleet operators quick access to footage and supporting data from the Geotab integration within seconds of an incident occurring.
David Savage, Vice President, UK & Ireland, Geotab, says: "We have a long and established working relationship with SureCam and are delighted to work with them on the next phase of their integrated dash cam technology. We firmly believe that in-cab camera technology provides immense value for customers looking to improve vehicle safety and efficiency.

"Not only are cameras a vital safety tool that can help accurately record and prevent accidents, but they also have the added benefit of helping with insurance claims and reducing wear and tear on vehicles. The enhanced features from SureCam takes the camera technology to the 'next-level' of in-cab functionality."
The latest version of SureCam's dash cam technology is the next step on its journey to empower the world's fleet operators with video that is easy to access and actionable enough to drive meaningful results in both fleet safety and efficiency.
The upgraded integration is available from this month to existing and new Geotab users globally, including the US, Canada, UK, Europe and APAC and available as part of the Geotab Marketplace.
©2022 Geotab Inc. All rights reserved. Geotab and the Geotab logo are trademarks of Geotab Inc. used under license. All the other logos and trademarks are the property of their respective copyrights holders.