4 min read
Key Considerations for Investing in Dual-Facing Dash Cameras
SureCam Apr 3, 2023 9:49:27 AM

Considering A Dual-Facing Dash Camera?
The best fleet dash cameras can save you time and money while simultaneously improving the safety and efficiency of your fleet. With so many telematics options on the market today, homing in on the right technology package will be vital in getting the most ROI out of your fleet video monitoring investment. 
While most dash cams will add value to your business, a dual-facing connected dash cam is able to be an extra set of eyes when it matters most. Any dual dash camera owner could tell you about additional security, customization and optimization benefits of this dash camera type. Want to know about the special dual-facing dash cam features that fleet management professionals have been using to streamline their practices? Read more below, the benefits are easy to see. 
Dual-Facing Dash Camera
Capabilities
Dual-Facing Dash
Camera Hardware
Some connected cameras come bundled with a two-in-one forward and dual-facing camera that only gives you the option to turn off the interior camera if you do not wish to use it. SureCam offers a separate forward and dual dash camera option so you only pay for the technology you need. Each option comes with the same reliable German-engineered forward-facing device mounted on the dash with our commercial grade adhesive. 
The dual-facing dash camera package is unique in that it comes with a smaller mountable secondary camera for in-cabin footage. This in-cab camera comes with a 15 inch cable to connect it to the forward-facing dash camera. It is most commonly mounted to the A Pillar of the cabin on the passenger side, but can also be utilized elsewhere in the cabin for a rear-facing view or side view using a 5 or 10 meter extension cord. This mounting flexibility allows the SureCam dual-facing dash camera to be configured and utilized as a connected front-and-rear dash camera system.
The installation process involves a simple 3-wire install with optional inputs for additional hardware to further customize trigger settings. These can include features like button activated recording which can be useful for dump trucks, tow trucks and construction fleets. 
Dual-Facing
Dash
Camera Features
Both fleet cameras offer HD quality video footage and provide a 110° field of view so you can easily recorded events. The interior camera is also equipped with infrared illumination lighting to see at night or in darker environments for optimal visual quality. An optional audio recording setting is available for the interior camera as well, providing another layer of information for fleet management professionals to fall back on in the event of an incident. 
SureCam Secondary "In-Cab" Camera Features:
High quality video

with a 110

° view

Infrared

lighting for night and low-light vision

Optional audio recording

for in-cab events

Flexible installation for use as dual-facing or front-and-rear

dash

camera
Benefits of Dual-Facing Dash Cameras
Installing a dual-facing dash camera system is incredibly beneficial for fleets because it shows another perspective of exactly when happened in the event of an accident. False claims are affecting fleets at record highs today, and often the commercial vehicle driver is blamed for these occurrences.
Having access to instant video footage allows you to get ahead of false claims by exonerating your driver with proof of innocence. Having this footage can also cut down on lengthy legal processes – and therefore fees - through the submission of a timely First Notice of Loss (FNOL) report.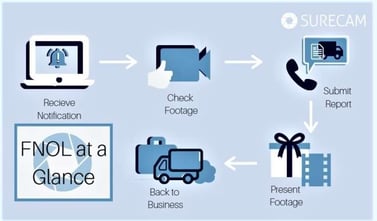 In addition, dual-facing dash cameras are great ways to help build skill and reduce risk throughout your team. You can use captured footage to review positive and negative safety behaviors while onboarding new drivers before they get behind the wheel. This way, you can stop accidents before they start.
If you want to take your coaching practice a step further, you can use the footage to set up a driver recognition program and reward the most dedicated members of your team for their good safety practices. 
Not only do dual-facing dash cameras offer great coaching opportunities for drivers, but they are also great options for higher risk fleets to consider. The extra security you can leverage from video footage is great to help reduce premiums and take some stress off you and your team.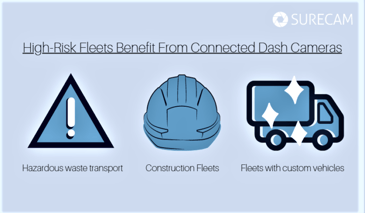 Consider a camera of this type if you work in:
Construction

Hazardous waste transport

Fleets with expensive custom vehicles
The damages for incidents of these types are often much higher, and you could face having incredibly high workers compensation claims if something goes wrong. Ensuring that you have your bases covered is paramount. 
Overcoming Driver Concerns
About Dual-Facing
Dash
Cameras
Many fleet managers new to fleet video monitoring are concerned about how their team will react when introducing connected dash camera technology into their vehicles. This worry can be amplified with the addition of an interior camera as many drivers are concerned that they will be spied on while behind the wheel.
While the driver's knee-jerk reaction might be negative, we often find that they quickly get on board when they find out how the technology can benefit them. Dual–camera fleet cameras offer a number of benefits for fleets, with just a few being:
Fewer incident occurrences

Increased employee retention through exoneration

Rewards and incentives for safe driving
We find that being honest and upfront with your drivers about your choice of connected dash camera is the best option to make your drivers more comfortable. Consider hosting an annual safety meeting to go over the technology, the reason why you are investing, and how it will help your team overall.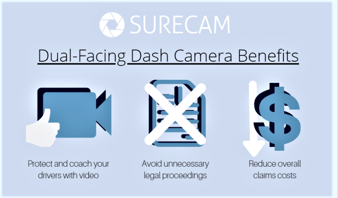 Don't forget to go over the specific functions of the technology to help ease their mind. For instance, SureCam fleet cameras offer a unique combination of security and privacy throughout customized event triggers. This means the camera will only save footage when an incident occurs. Recording is triggered by the vehicle exceeding a specific g-force setting, so you can rest assured that you will get the footage you need in the event of an incident while your drivers remain comfortable in their environment as long as harsh driving incidents do not occur. 
Why You Should Consider a Dual-Facing Camera?
Incredibly versatile in both structure and function, the dual-facing connected dash camera is a beneficial technology to add to your fleet. There are many recording options based on the mounting location and numerous ways to utilize footage to benefit your team.
With an easy to manage online platform, the SureCam dual-facing dash camera is a high-security, high-return on investment solution for your team.
Interested in knowing more about what investing in dual-facing connected dash cameras would look like for your fleet? Check our prices for dual-facing or front-and-rear connected dash cameras.