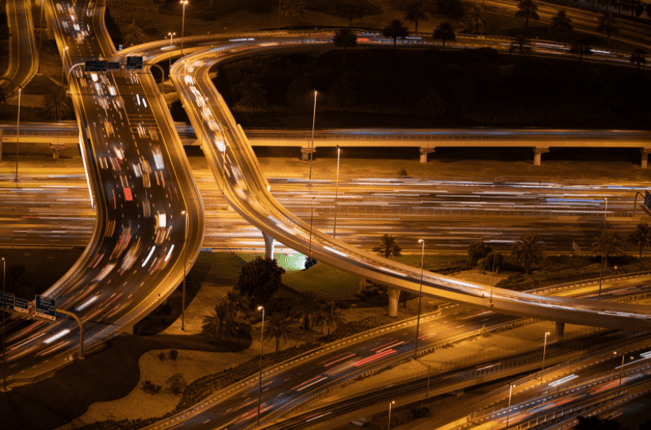 In our technology-driven world, it's easy to get overwhelmed by the many dash camera options available on the market. With so many different features and add-ons, it's hard to tell what combination will be best for your fleet. Will the associated data that comes with cloud-connected dash camera technology be too much to monitor on your own? Will the simplicity of SD card dash cameras offer the full coverage you want for your busy fleet?
Choosing a dash camera for your business operations has vastly different considerations than picking a dash camera for your personal use. The SureCam team is here to help answer all your questions with our breakdown of these two popular dash camera options.
SD Dash Camera Functionality
SD card dash cameras offer simple recording functionality without a lot of additional bells and whistles. These devices are easily accessible with many different off-the-shelf brands available for purchase at most major electronic retailers. They also tend to be less expensive and are usually easy to install by attaching directly to your vehicle dashboard without a lot of additional wiring required.
Once the device is manually powered on by the driver, it can begin recording on the assigned SD card. The length of the recording will depend on the memory capacity of the device's SD card, and once the memory card has reached capacity, it will re-record over existing footage. In order to retrieve the desired footage, one simply needs to remove the SD card from the device and download the footage manually on their computer.
Who They Best Serve
SD card cameras offer a certain ease of use for businesses through the simplicity of their installation, lack of data management needs, and budget-friendly price tag. However, there are a few additional aspects to consider in determining if this is the right option for your team. For instance, we typically find that SD card camera functionality best supports owner-operators or very small fleets that will only be traveling short distances. This is mainly due to the recording capabilities of the device.
For instance, if an event of interest is recorded early on in a trip, a vehicle traveling a great distance before stopping would run the risk of losing the footage through re-recording over the local SD card storage before being able to download the incident. If pulled early from the dash camera, you run the risk of having the SD card being lost or damaged or having a significant delay before being able to download the footage. This could be more damaging to fleets attempting to get ahead of the false claims cycle from a First Notice of Loss perspective. Fleets should be careful to consider the specific business goals for investing in this kind of technology before purchasing their dash camera.
Cloud Connected Dash Cameras
Cloud Connected Dash Cameras: Functionality
If you find that you are looking for more security for your team than what is available on an SD card dash camera, a cloud-connected dash camera might be a good option for you. These devices are typically available from telematics providers and come with both physical camera hardware and an associated data package. Their installation is not typically very complicated but can be longer and can occasionally require support from an installation specialist due to additional wiring and vehicle configuration needs. The length of the installation process will vary by camera provider.
Unlike SD-based dash cameras that usually require drivers to turn on the devices for recording, cloud-connected dash cameras automatically power on when the vehicle ignition is turned on to ensure all travel with the vehicle is recorded by the device.
Their recording capabilities also offer additional protection for fleets who travel over the road as they have the ability to record incidents that set off trigger settings within the camera and transmit the footage wirelessly or "over the cloud". This footage can be delivered directly to the fleet manager's computer or mobile device as the incident occurs in near-real-time for automatic viewing. This offers a number of benefits for fleets looking to dismiss false claims quickly, or for fleets looking to use driver footage to help improve overall fleet safety through video-led coaching practices.
Cloud Connected Dash Cameras: Who They Best Serve
Cloud-connected devices are typically recommended for businesses with fleets that spend more time traveling over the road or fleets that travel in higher risk areas such as long haul operators, construction vehicles, or last-mile delivery fleets. The instant notification capabilities and wireless transmission of data make these excellent options for fleets with sizable insurance risk or security needs as the footage allows you to get real-time information about your assets.
Many cloud-connected devices come with an associated data package that allows you to view your video footage remotely, monitor the locations of your assets, and use the associated driver safety information to benefit your team. This can be done through a variety of coaching and dispatching practices.
Some fleets might be overwhelmed by the thought of having to manage large amounts of data on a daily basis. You should be sure to consider what features you are looking for when selecting a telematics package so that you tailor the information to what will best serve your fleet. Fortunately, many connected dash camera devices offer a variety of management platforms that allow you to access your team's information in a way that best works for your business. Be sure to do your research and shop around to find out the best options for you.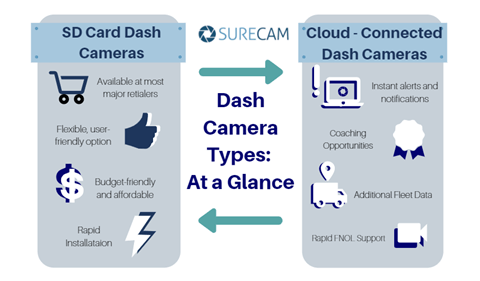 Cloud Vs SD Card Dash Cameras: What is Best for my Team?
When it comes to dash cameras, no two kinds are exactly alike. While this may seem daunting at first, it is actually a good thing! This means that you have the freedom to explore the different options and arrive at the technology package that will best support your team on the road. Let's wrap up our findings again:
Considerations
SD Card Dash Cameras
Cloud-Connected Dash Cameras

Best for

Personal use

Very small fleets

Low road time needs

5 or more company-owned vehicles

Medium to high road time needs

Vehicles with expensive equipment or cargo

Drivers with many starts and stops

Video retrieval

Manual

Automatic and remote

Additional insights

Limited

G-force data

GPS Tracking

Trip logs

Advanced insights available: driver safety ratings, speeding alerts, geofencing activity/route deviation, after-hours driving, etc.

Cost

Low: $ to $$

Moderate to high: $$ to $$$$$
The SureCam team is always here to help answer questions and connect you with the best resources. At SureCam, we have flexible connected dash camera options that could be a good fit for your business. Our simplest and most affordable option pairs our connected dash cameras with our video-only platform that allows fleet managers to see video alerts and footage in near-real-time as well as access basic incident data. For businesses that could benefit from additional GPS tracking and driver safety reporting capabilities, we have our video plus tracking platform, SureCam View Pro, to fully unleash the telematics insights made available through SureCam devices.
Contact us today to learn more about SureCam's award-winning connected dash camera technology.