SureCam Fleet Camera Systems
Collect the actionable insights you need to drive your business from one small yet powerful fleet dash cam device
SureCam's cloud-connected fleet camera systems ensure fleet managers are the first to know when incidents occur on the road. Get instant safety alerts and video evidence when accidents happen. Keep your business running smoothly with real-time GPS tracking, trip history reports, and custom alerts.

The best news? You can get up and running quickly with a monthly subscription. No upfront purchase necessary.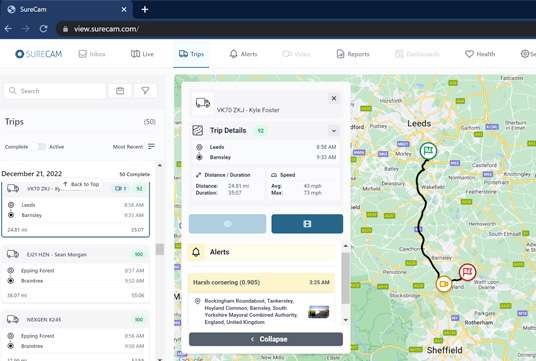 Put your Trust in SureCam
From family-owned to household names, smart businesses choose SureCam.


How Connected Fleet Dash Cams Work
Connected dash cams utilize cellular connectivity to send video, GPS, and underlying telematics data to an online platform. This allows you to manage your fleet and respond quickly to any incidents.

G-Force or telematics triggered event occurs within your fleet

Video and data is uploaded via cellular connection

Receive instant notification of incident via email or in the surecare platform
Through the use of a cellular connection, you can be instantly notified and watch high-quality video directly within SureCam's cloud-based platform within seconds of an incident occurring. With SureCam's commercial-grade dash cams with cloud storage, you can leverage fleet video to get the full context behind every incident — instantly and remotely.
Fleet Camera Systems Are More Than Just Dash Cams
Say hello to the essential fleet management tool for driving your field operations.
Big ROI from one small device:
Instant Visibility
Get the full context behind any incident. Only video can do that. Monitor what happens in the name of your business on the road with connected dash cams.

Reduce Claims Costs
Improve safety, drive down the overall number of incidents, and provide indisputable proof of accident liability to your insurance provider.

Real-time Support
Get instant access to your team's location and a view of their surroundings to provide remote support in real-time.

Driver Accountability
Track driver behaviors backed by video evidence to improve road safety and promote safe driving through coaching.

Vehicle Tracking
Know where your vehicle assets are, where they have been, and what happened along the way.

Enhance Customer Service
Leverage fleet video to verify service delivery and investigate customer complaints.

Boost Productivity
Reliable tracking combined with fleet video helps ensure your team is sticking to their schedule.
Take the first step toward exploring fleet camera systems for your business today.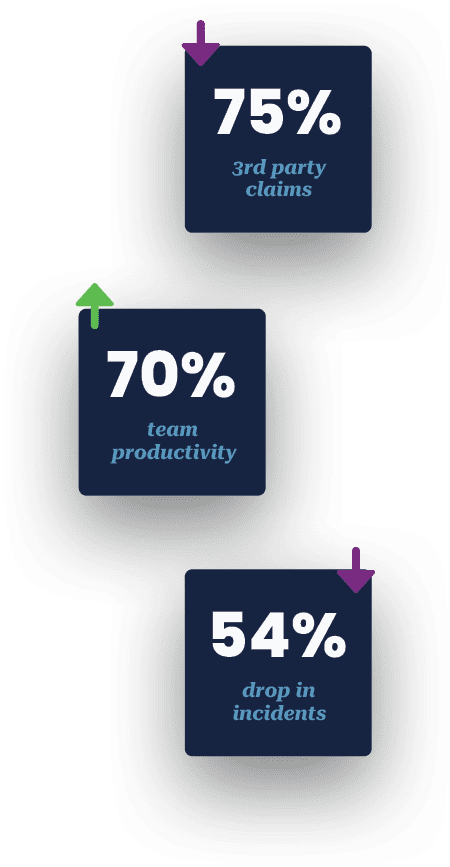 Why Use a Fleet Camera System?
Once you are operating multiple vehicles, having instant access to video and the ability to track your team helps you maintain control of a business steadily growing in complexity. Connected dash cams require absolutely no driver intervention.
Save time and avoid the headaches that come along with non-connected dash cams. Gain peace of mind knowing you're helping keep drivers safe and protecting your business.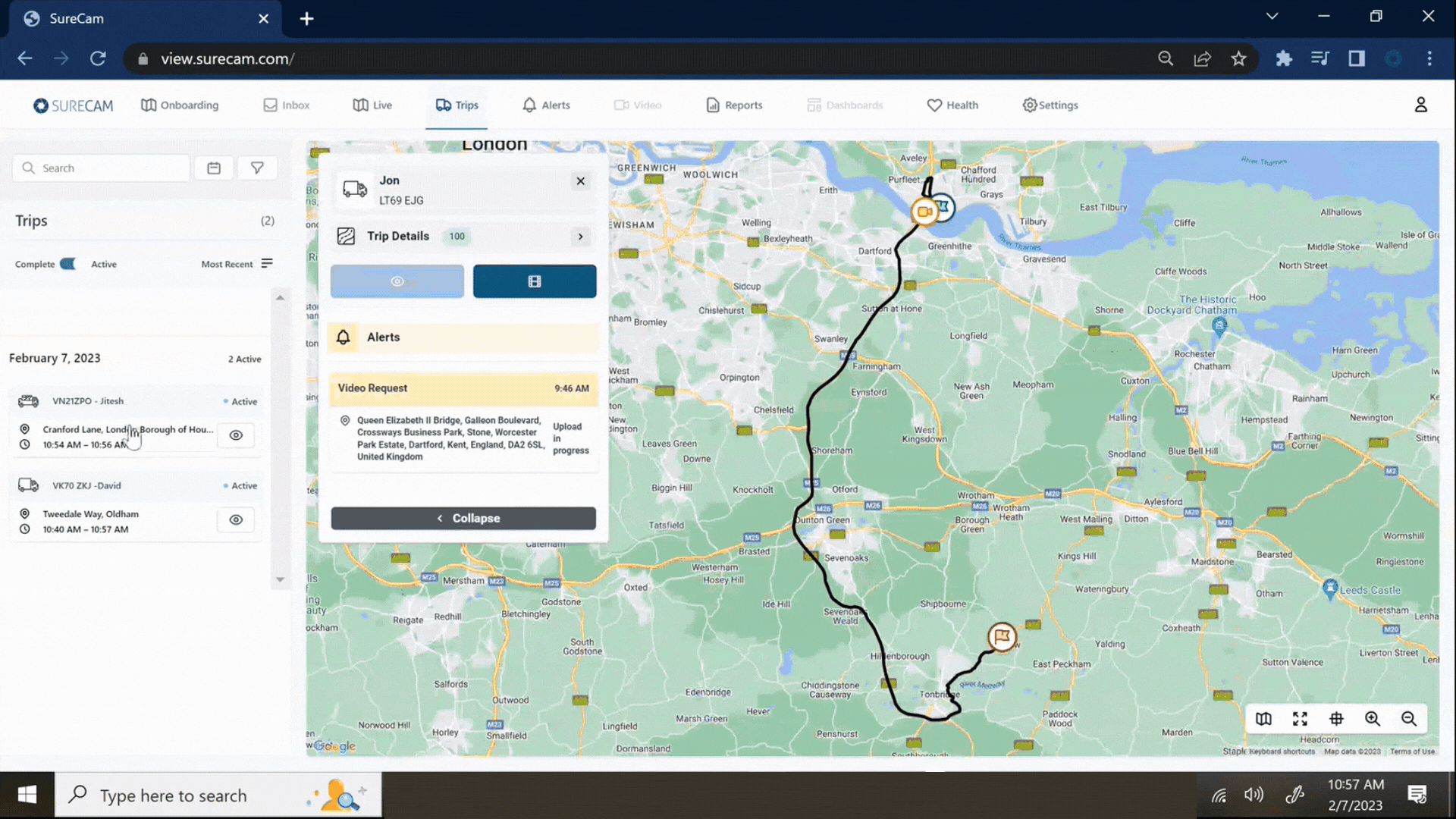 Fleet Camera System Options
At SureCam, we offer a variety of fleet dash cam configurations to meet your fleet management needs.
Fleet Camera System Features & Benefits
SureCam makes it easy for you to turn fleet video into real ROI for your business.
SureCam's fleet dash cams are enabled with GPS tracking, allowing you to see where your vehicles are at all times.
SureCam's fleet dash cams are connected to the cloud via cellular network, allowing you to remotely access incident video, historic video of interest, and live video from any computer or mobile device.
SureCam offers optional live-streaming dash cam functionality, allowing you to see video from your dash cams in real-time.
Trip History
SureCam's fleet dash cams capture and record a vehicle's complete trip history, giving you the full story of where your vehicles have been throughout the day.
Safety Scores
SureCam's fleet dash cams record telematics data to provide you with safety scores to help you quickly determine which workers are your safest drivers and which ones could benefit from coaching.
Instant Alerts
SureCam's fleet camera systems leverage a wide variety of real-time data points, allowing you to be alerted about the safety, management, and maintenance events that matter most to you.
Speeding Data
SureCam's fleet dash cams with speeding alerts allow you to monitor and enforce excessive speeding policies.
SureCam's Geotab-compatible dash cams allow you to view event-triggered and Geotab rule-triggered videos directly within the Geotab platform.
Schedule a call today to discover all the ways fleet dash cams can help you run a safer, more productive field operation.
Frequently Asked Questions
Schedule a call with a SureCam solutions consultant
Want to learn more about how to leverage fleet video from SureCam to improve safety and reduce claims costs? We work with businesses of all sizes to achieve real gains in safety and efficiency.
Let's talk about your business and the problems you are looking to solve with fleet video to determine if and how SureCam can help you.
2
Dive into the SureCam platform with a Live Demo
See your use case come alive with a demo of our online platform. This is usually accomplished on your first call or can be scheduled for a later date when key members of your team are available.
If SureCam is the right fleet video solution for you, you can Order Now and begin working with a dedicated customer success representative to get your devices installed and your account configured and optimized for your needs.
Why SureCam?
There are a number of great fleet camera system providers out there, but none of them specialize in small teams quite like we do.
We know what it's like to try and keep your team safe all the while wearing many hats for the business. You can't be everywhere, but you NEED to be everywhere.
That's why we have designed every aspect of our service with small teams in mind — from our fleet dash camera tech to our online platform, from our monthly subscription plans to our new customer training and ongoing support — we make it easy.
In fact, we believe that you don't need to have a large team to make a big impact on safety. Many of our customers only have one person looking after safety (and that person is usually focused on other needs for the business as well).
Every fleet, from three vehicles to hundreds, should have access to the same best-in-class technology that provides real-time visibility into what's happening on the road. And, you shouldn't have to dedicate a lot of time, people, and resources to effectively use it.
The proof is in the results: on average, SureCam customers see a 55% reduction in incidents and a 62% reduction in claims costs.
With so much to do, we are on a mission to make safety and profitability easy for you.